January 24, 2013
Join me in my new location.....
The Vintage Housewife.org
And please excuse the dust.... still working out all the bugs!
Read More ->>
January 22, 2013
Tuesdays are busy around here! We talk about marriage, mentoring (Titus 2), homemaking, wifery (not sure that's a word), and dreaming
God-Sized Dreams
.
Every day here on
The Vintage Housewife
I can see my
God-Sized Dreams
coming true. More readers are finding the blog, leaving comments, and connecting (hopefully with each other as well).
That's the mission here - connecting fellow Christian women through faith and technology
(something I posted about yesterday from
RachelWojo.com
).
We all lead busy lives and we rely on technology as a basis for making connections.
As bloggers and social media participants we can utilize these methods to glorify God by producing Christ-centered material and topics that bring people together, not tear them apart
<----Click to Tweet
.
As wives and mothers we may sometimes find it hard to make connections outside of our immediate circumstances. The PTA, church small groups, sport teams, etc. can be great places to meet people, but we desire to stay connected with people we have common interests with even outside of these social interactions.
God designed to be "social butterflies" and to seek connections with our brothers and sisters.
I would like to personally see these connections grow stronger through a series of mentoring interactions and social gatherings
. It's already happening all around us.... people are meeting, going to conferences and weekend getaways for the sole purpose of connecting with like-minded, Godly women.
Share with me today about your God-Sized Dreams and how you are making them a reality. What struggles are you facing in making those dreams come true - is it opposition from friends and family, or maybe an unsupportive spouse? We are here to encourage and support you,
all you have to do is reach out and connect.
Join me in linking up here today....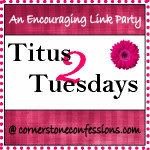 Read More ->>
January 21, 2013
It's Monday again, can't believe yet another week has gone by in the year 2013!
I've so many wonderful blog/#eministry ideas I want to share with you, I fear that 2013 will be gone before I get to them all. Wow, that made me sound like I was the superstar of ideas- that's not really true, but I do have tons of great things I want to communicate to you and ask for your involvement in (me, excited).
This week on
Mentoring Mondays
I'd like to utilize the basic idea of what
RachelWojo.com
is talking about on her blog each Monday.... the issue of technology and faith.
My focus for this topic however, has to do with technology in marriage. Most families rely on technology, electronic devices, MP3's, and the like to either listen to music or communicate.
Our family is no different! My husband and I each have iPhones, we do have a family iPad, the kids each have Kindles, and my daughter still has a DS and an iPod Nano for her music. So in the grand scheme of things, we have no real reason to talk to one another, play music on the "radio" or communicate in any way with each other.
I all of a sudden feel like a very bad parent! But even more so I feel like a very bad daughter to my gracious and patient Heavenly Father. I never stop to think how He feels about all this technology and what it might be doing to our daily time together. Am I even opening my paper Bible to feel the pages across my fingers, or do I flip to my iPhone and open my Bible App for any version of the Word I could possibly want.
What about my the distraction this poses between my husband and myself? You can see the two of us sitting on the same couch, not paying one bit of attention to one another yet completely enthralled in whatever is happening on Facebook, Twitter, or the like on our iPhones. Typing these words actually make me a little queasy.... it would seem that we enjoy spending more time in the lives of others instead of with each other?
Technology is putting a gap between me and beloved whether we choose to admit it or not. If we can honestly say that we spend more time using some form of technology than we do with each other, outside of work or ministry commitments, then we have some serious issues and they directly deal with disobedience to God. You see God devised marriage for unique fellowship between a man and his bride that is unlike any other fellowship we have with friends or family. It's intimate and loving, does not always have to include sex, but rather loving interactions that keep us focused on one another. Our minds and bodies, and emotions, desire that intimate time with our spouse because God has ordained that time within the confines of marriage.
Therefore a man shall leave his father and his mother and hold fast to his wife, and they shall become one flesh. Genesis 2:24, ESV
So my question here today is, what are you doing to balance the need for technology and the need/desire for your spouse? When you find yourself slipping further and further apart because of new Facebook status updates pinging on your phone and the latest blog post from your favorite writer, how do you reel yourself back in and put the device down and pick up your spouse (using words or touch)?
You can join me in linking up here today....
Read More ->>